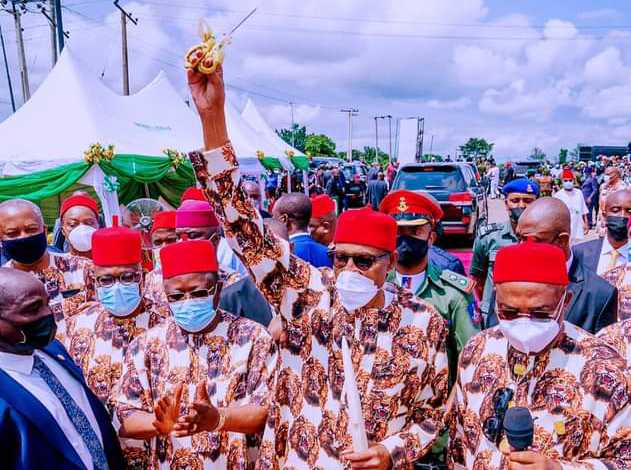 Politics
UPDATED: Heroic welcome for Buhari in Imo
RESIDENTS of Imo State on Thursday,  gave President Muhammadu Buhari a heroic welcome as he commissioned four newly executed projects in the state.
The projects were Naze-Poly Nekede Road, Balloon Technology Drainage Tunnel at Dick Tiger, Amakohia Egbeada bypass and the New Government House Executive Chambers.
Shortly after his plane landed at the Sam Mbakwe Airport in Owerri, the state capital, President Buhari was received by Governor Hope Uzodinma, along with some state officials and other dignitaries.
At a ceremony to commission one of the projects, the President praised the governor for his development strides which he described as visible.
"I have seen enough that justifies his (Uzodinma's) integrity in making sure that he is working very hard to make sure that you get the structures necessary," President Buhari said.
"I am very impressed by what he has done because I have gone through the same problems at the centre."
Stressing that infrastructure is what will enable the people to mind their own businesses, he said, "If there are no roads; if there is no security, what can the people do? Absolutely nothing.
"I am very pleased that by some fabulous coincidence, my idea and that of your governor coincided. I am very pleased with what I have seen and I assure you that, at the centre, I will try to encourage Imo State within the constitution of the Federal Republic of Nigeria."
Governor Hope Uzodinma had a few days back disclosed that Buhari would be visiting the state to commission some "significant projects" his government has executed.
"While in Abuja, I secured approval for President Muhammadu Buhari to visit Imo on Thursday, Sept. 9, to commission some significant projects put together by the Shared Prosperity Administration," the governor told newsmen after he visited the Federal Capital Territory (FCT).
He also noted that Imo has gotten additional support from the President on the management of some ecological problems in the state.