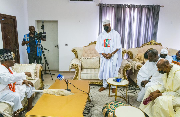 Politics
Wait for your time, Oba of Lagos tells Rhodes-Vivour
CITIZENS COMPASS– Oba of Lagos Rilwan Akiolu has advised the Labour Party's Gubernatorial candidate, Gbadebo Rhodes – Vivour to hold on for the future in his gubernatorial ambition.
The Oba however commended Gbadebor's bravery for coming out to contest.
Oba Akiolu said this on Thursday, March 16, 2023, during a visit by Gbadebo to his palace..
Gbadebo was accompanied by his father and some other party chieftains.
During the visit, the monarch empathically said that his support is for Lagos State Governor Babajide Sanwo-Olu who he projects to win the election on Saturday, March 18.
Speaking during the visit of the LP candidate to the monarch's palace, Akiolu, who prayed for Rhodes-Vivour and wish him well in his future endeavours, maintained that there was nothing wrong with Rhodes-Vivour vying.
The monarch said that he has a bright future but this election is not for him to win.
"Please, don't relent after this contest but I am fully behind Sanwo-Olu," he told Rhodes-Vivour.
Akiolu commended Sanwo-Olu for the many giant strides he has recorded as governor, noting he became governor as the most difficult time in the state.
I am not an hero worshipper and gossiper. For Gbadebo, the future is open to you. God will not kill you, there is nothing wrong in you contesting. All of those contesting are my children.
"I pray by the authority in this palace, God should help us to turn the state better. There is no way I can hate the igbos because they are among my best friend."
The monarch doused the fears expressed by some residents that there would be violence during the election.
He added: "By the grace of God, there would be no trouble. All the false prophets, I am just looking at them. Everything is in the hands of God and within six months of Tinubu, there would be glaring progress."
Akiolu implored all residents of the state to come out to vote and be peaceful in performing their rights.
He also noted that the majority of politicians are after personal benefits and not after improving society or serving the people.
In his tweets, Gbadebo wrote, "I was accompanied by my father and team to visit and pay our respects to the Oba of Lagos, we indigenous Lagosians will always respect and revere our traditional rulers, and I look forward to working with them to build a better Lagos."