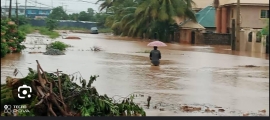 Community
We are dying of hunger, residents cry to Governor 
CITIZENS COMPASS —Residents of Owode Ketu in Yewa North Local Government Area of Ogun State, have cried out to the State Governor, Prince Dapo Abiodun and other political leaders in the State to save them from dying following perennial flood that has taken over their farmland. 
Speaking with journalists recently, one of the residents, Mr. Aliu Oderinde, explained that the ecological challenge had prevented the people from carrying out their normal day-to-day activities, as water from Yewa river had taken over the access road leading to the agrarian community.
Oderinde noted that pupils, students and teachers had to find alternative routes to their schools, as a result of rising levels of water that had submerged the bridge leading to the community, while commercial activities were grounded.
He explained that they endangered their lives by passing through the water to transact businesses at Ijoun market for them to keep souls and bodies together.
He said the perennial flooding from the Yewa river always last for a period of six months.
Our people at Owode-Ketu, especially in Eegua Ward 2 are dying of hunger as a result of high water level from the Yewa river that has taken over the road leading to our community.
"We are predominantly farmers in the area. All our crops have been washed away, we cannot access our health facility at this time. Our businesses are down because we cannot go out.
"Traders cannot access Ijoun market because the only road leading to the community is not accessible due to rising water levels.
"This challenge in the past years had placed untold hardship on us. The water level from the Yewa river keeps increasing by the day. We don't have a place to go, this is our locality. We begged Governor Dapo Abiodun and our representatives in the National Assembly to help us address this issue."
—News Contact Online