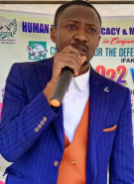 Community
Your right is your right, you must fight for it, rights activists tell Nigerians
...as advocacy group marks Human Rights Day in Lagos
CITIZENS COMPASS– HUMAN Rights Advocacy and Monitoring Group (HURAMG), in conjunction with the Committee for the Defence of Human Rights (CDHR), Ifako Unit, have marked the 2022 World Human Rights Day with a charge to Nigerians to stand against abuse of their rights.
The event was held recently at Fagba open field in Ifako-Ijaye Local Council Development Area of Lagos State.
Leading human rights activists in Nigeria including Comrade Kehinde Adeoye, Chairman CDHR, Lagos State, Barrister Olamilekan Matti, Legal Adviser, CDHR, Lagos State, Comrades Kushimo Olumuyiwa of Foundation for Justice and Rehabilitation of Prisoners and the Convener, HURAMG, Adewale Ojo were in attendance.
In his presentation, the Ocassion Chairman, Comrade Adeoye charged Nigerians to stand up for their rights at every given opportunity though he said this may take time before it is achieved. He said, "Fighting for your rights cannot be achieved on a platter of Gold, so, be ready to sacrifice your time.
"It is one thing to know your rights, another thing is for those in authority to respect your rights. The right to life, freedom, religion and many others should not be taken with levity. "
in his Keynote address titled, "Your rights as enshrined in the Nigeria Constitution," Bar Matti said lack of enlightenment is a major barrier to fundamental human rights calling on Nigerians not to shy away from fighting for their rights whenever the ocassion arises.
Matti said human rights are innate and the earlier this sinks into the hearts of individuals the better. "Your right does not come freely, you have to fight for it.
"Don't wait till your rights are violates before you act"
The Legal Adviser said the purpose of the gathering was not to incite Nigerians against the government but to be an eye opener against human rights violation.
Also speaking, Comrade Olumuyiwa advised Nigerians to speak up anytime their rights are being tampered.
The comrades tasked Nigerians to participate in the 2023 elections in order to elect their leaders.
They kicked against buying and selling of votes.
The activists said participating in elections affords one the moral justification to challenge bad leadership.
Earlier in his welcome address, the Convener, HURAMG, Comrade Adewale Ojo, said, "Thousands of Nigerians continue to suffer victimisation and abuse by law enforcement agencies two years after EndSARS. We have intervened on series of rights abuses especially from the law enforcement agencies through our social media platform and physical appearances in which we never relent."
Human Rights day is celebrated every 10 December to create awareness and mobilize political will to promote respect for the rights and freedoms enshrined in the universal declaration of human rights adopted by the united nations general assembly in 1948.
The 2022 Theme of Human Rights Day is "Dignity, Freedom, and Justice for All."