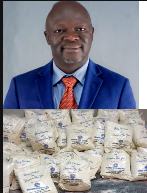 CITIZENS COMPASS– IT was an atmosphere of joy and happiness along Renecon Road, Macaulay area of Igbogbo/Baiyeku in Ikorodu Division when Mandate of Christ Chapel International Church donated packs of food stuff to about 250 residents.
The beneficiaries comprised church members, residents and the needy regardless of their religious divide.
The donation began before Christmas Day and still ongoing as the beneficiaries pop into the church at their leisure to pick the items.
Citizens Compass learnt that the gesture is done annually as part of the church's Corporate Social Responsibilities in the neighbourhood.
When our correspondent visited the church, the Helmsman Pastor, Kehinde Adebisi was seen handing over some of the packs to some beneficiaries.
In an early morning chat with our correspondent on Saturday, December 31, 2022, Adebisi said that giving is an act of God and this is one of the missions of the church.
He urged churches to cultivate the habit of reaching out to people particularly those in the neighbourhood.
Quoting from Acts 10:38, he said, "Jesus Christ went about doing good. Though the church is not set up for profit making but as we feed people spiritually, it is good to also extend the acts of benevolence by feeding them physically.
This we have been doing for over a decade and Almighty God has been blessing us in return.
"We have a mandate which we pray and work hard to achieve and we are believing God to see us through all odds,"
The cleric called on well meaning individuals to support the church in order to expand the gesture. "As God blesses us, we hope to expand the scope. We call on individuals and corporate organisations to support this vision "
A beneficiary, Madam Khadijat Abolore said despite her religious divide, the church has been reaching out to her by donating food stuff and offsetting her children's school fees.
Another beneficiary, Samuel Onadipe thanked Pastor Adebisi for the gesture. "The donation of the foodstuff will go a long way to feed my family for the Yuletide." He said.
Mandate of Christ Chapel International Church has been in existence for about 15 years.