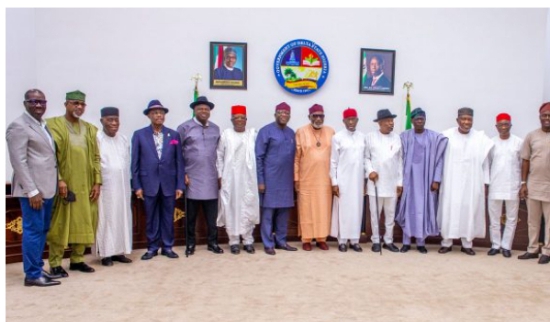 The Presidential Support Committee (PSC) has warned the 17 southern state governors over their insistence that power must rotate to the South in 2023, saying that it is capable of leading to the break-up of Nigeria.
Addressing journalists at Nicon Luxury Hotel, Abuja, shortly after the inauguration of its National officers and Hon. Gideon Sammani as the National Chairman,  the Director, Media and publicity of PSC, Dr. Kailani Muhammad,  said the North would not be compelled to accept the position of southern governors at their recent Second Summit in Lagos because it (North) has the advantage of a voting bloc.
Muhammad said: "We don't see how the governors should be confronting the President. Look at their insistence that power should shift to the south in 2023. We are Nigerians and we have the bulk of the votes in the North.
"It is a matter of give and take; it is not an issue of saying it is a must. If you are saying it is a must, that means you are looking for something- like breaking up the country. That is just a simple analogy."
PSC likened the second governor's summit to a gang-up against the President, saying their resolution was not in tandem with democratic norms.
"For setting a deadline to stop open grazing even when President Muhammadu Buhari has made a statement in that regard, is an open confrontation against the President. It is not a wise political decision", Muhammad said.
He also said that the threat by the governors to implement the anti-grazing law by September 1, 2021 will result in a clash of interest between the Federal Government and the state governments.
Muhammad said: "President Buhari has explicitly explained that grazing law has been in existence for quite a long time. Even the routes are there. The Fulani used to follow that route many years ago.