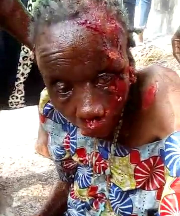 CITIZENS COMPASS- THREE persons were rescued from a lone accident which occurred underneath Dopemu Bridge in Lagos State.
The incident occurred inward Iyana-Ipajs area at about 3.15pm on Tuesday, February, 14, 2022.
Adebayo Taofiq, Director, Public Affairs and Enlightenment Department, Lagos State Traffic Management Authority (LASTMA), who narrated the accident in a statement, said the operatives did a yo man's job by rescuing the accident victims.
"The lone accident which occurred around 3.15pm involved a Lagos painted Volkswagen commercial bus with registration no GGE 569 AS.
"A 60 years old woman selling roasted plantains by the road-side popularly called 'Iya Oni-boli' and 2 other passersby including a school boy were seriously injured and rushed to a nearby hospital by another private car owner for an immediate medical treatment.
Preliminary investigation revealed that the lone Volkswagen commercial bus (GGE 569 AS) lost control as a result of brake failure and over speeding.
"The Head of LASTMA (Alpha) around Dopemu Mr. Amusa Mukaila Owoyemi who led the LASTMA rescue team confirmed that the driver of the accidented Volkswagen commercial bus was immediately handed over to Policemen from Dopemu Police Station while his vehicle was quickly removed from the road to pave way for free flow of traffic to other road users.
"He revealed further that Policemen from Dopemu Police Station and passersby supoorted LASTMA officers during the rescue operations.
"The General Manager Mr Bolaji Oreagba however warned motorists particularly commercial bus drivers to always ensure their vehicles are in good condition before setting out for movement on roads and avoid over speeding."
There was no loss of life.