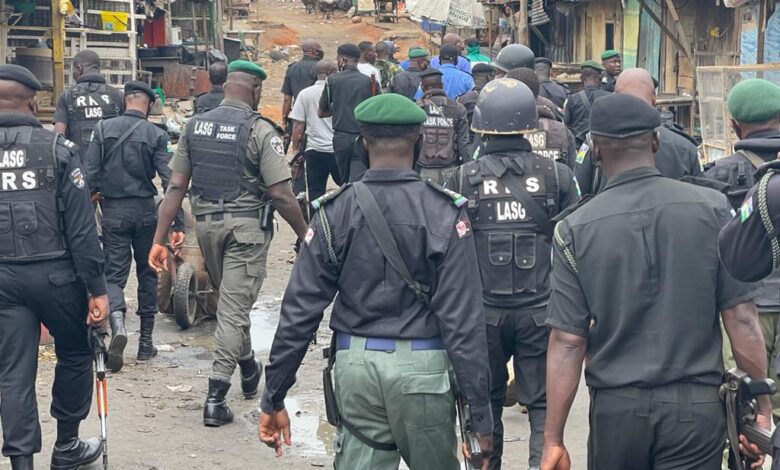 By Paul Rosanwo
There were pockets of fights on Thursday, carried out by some suspected hoodlums, at Gengere, Mile 12 area of Lagos State.
An unconfirmed report said many people were injured in the process in their bid to scamper for safety.
Also, vehicles were reportedly vandalised, at Gengere, Ajilinti and Mile 12 as a result of the fight.
Eye witnesses' account said the fight which occurred at about 9.30am, was a reprisal attack by some suspected hoodlums in Agilinti, Gengere and Owode-Elede.
The number of the injured persons could not be ascertained as at the time of reportage but it was gathered that many road users were dispossesed of their personal effects as the suspected hoodlums ransacked and vandalised vehicles.
Eye witnesses' account said commercial activities were grounded for hours as residents and traders ran for safety.
An eye witness, Ibrahim Sanni said while the crisis lasted, the hoodlums took over Owode-Elede down to under bridge to scare people.
Another eye witness Mrs Foluke Atofolatan said the crisis was noticed when some suspected hoodlums from Agilinti stormed Owode- Elede with dangerous weapons unleasing terror on people.
According to her, this was resisted by some suspected hoodlums in Owode-Elede which led to a serious fight in the process. He said, "Owode-Elede people chased the hoodlums down to Adekunle. While the fight was ongoing, some hoodlums seized the opportunity to cause artificial gridlock thereby vandalising vehicles and robbing innocent passengers,"
It was gathered that a combined team of law enforcement operatives arrived the scene to disperse the suspected hoodlums.
The Thursday fight occurred barely 48 hours after the Commissioner of Police, Lagos State, CP Hakeem Odumosu ordered the arrest of 13 leaders of the warring groups in the area.
Problem started on weekend when a suspected cultist popularlly known as Desmond was shot dead at Ogere, Ogun State.
He was said to be a stakeholder in Mile 12 and this sparked violence in the axis which degenerated and led to reprisal attacks.
At press time, there was palpable fear in the axis despite the presence of law enforcement ooeratives.
The Spokesperson of the Command, CSP Muyiwa Adejobi said normalcy had been restored.
He said 48 suspected were arrested on connection to the crises just as Police would be on 24-hour surveillance in the area.