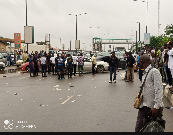 CITIZENS COMPASS– COMMUTERS and motorists on Murtala Muhammed International Airport (MMIA), Lagos, were on Monday,  stranded as students, in their numbers, shut down the main road linking the airport to Ikeja and Apapa-Oshodi Expressway.
They were protesting seven months industrial action by the Academic Staff Union Universities (ASUU). 
The students bore placards with various inscriptions singing and dancing while some policemen kept a distance. 
The protesters, under the umbrella of the National Association of Nigerian Students (NANS) have vowed to remain on the road until the Nigerian government and the striking Academic Staff Union of Universities (ASUU) reach an agreement to send the strike.
The protesters defied the early morning rain in Lagos and assembled on the main road leading to the airport near the toll gates.
Many workers and travellers were forced to trek long distances to access the airport as the protesters continued to sing and dance in circles ASUU has demanded the replacement of the Integrated Payroll and Personnel Information System (IPPIS) as salary payment platform with the University Transparency and Accountability Solution (UTAS) which its members developed.
ASUU said rather than ensuring accountability, IPPIS has enabled fraud in the system and that it failed to accommodate the peculiarities of the university system.
The union is also requesting the release of revitilisation fund for the universities as contained in the earlier agreements signed with the government, and the release of its members-earned academic allowance, among others.