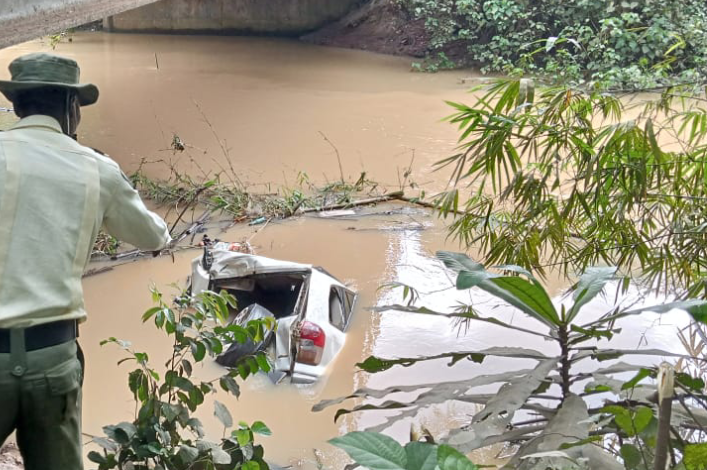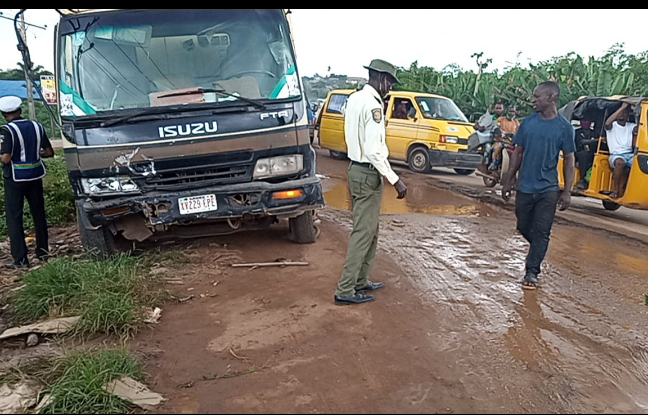 THE driver of a Toyota RAV 4 has been presumed dead in Ogun State, after his car was allegedly hit and dragged into Iju river by a truck.
The truck driver and his motor boy have been arrested in connection with the death.
The incident occured at about 3.25pm, on Iju Bridge, along Ota-Idiroko Road in Ado-Odo/Ota Local Government.
Eye witnesses' account said the car whose owner was presumed dead on the spot was allegedly hit by the Izuzu Truck with number plate XV 229 EPE.
However, sympathisers were at hand to prevent further damages before the arrival of the Nigeria Police, Ogun State Traffic Compliance and Enforcement Corps (TRACE), and relevant agencies who recovered the vehicles and deposited the body at a morgue..
Also, the operatives were said to have restored normalcy as the incident distrupted free flow of traffic in the area.
Eye witnesses' account said the truck suffered break failure, hit the car and dragged it into the river.
Apart from the private car, a tricycle was said to be affected by the truck.
The presumed body was said to be deposited at General Hospital, Otta.
According to eye witnesses' account, the vehicles and tricycle involved in the unfortunate incident were travelling from Sango inward Atan.
However, the truck, which was behind the Toyota Rav 4, lost control due to brake failure, and allegedly hit it from the rear such that it fell sideways into the Iju River, with the driver losing his life on the spot.
The car driver was said to be the only occupant in the vehicle when the incident happened.
Following the death, the truck driver and his motor boy were arrested and detained at Onipanu Divisional Police Station.
Confirming the incident, TRACE Spokesperson, Babatunde Akinbiyi commiserated with the family of the deceased driver.
He adminished motorists particularly articulated vehicle drivers, to adequately maintain their vehicles and attend to India sounds promptly in view of its attendant consequences