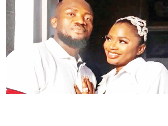 CITIZENS COMPASS– A resident of Lekki , Lagos State, Ikechukwu Ogbonna, is currently undergoing investigations by the Police over the death of his wife,
The Lagos State Police Command has confirmed the arrest of a 37-year-old Lagos car dealer, Ikechukwu Ogbonna, aka IVD, over the death of his wife, Abimbola.
The couple were said to be married for 16 years and produced five children but the were said to have recently reunited only for Abimbola to die in a suspicious manner.
SP Benjamin Hundeyin, Spokesperson, Lagos State Police Command, confirmed Ikechukwu's arrest on Monday, October 17, 2022.
Ikechukwu had taken to the social media to post some videos which alleged that the. couple had been enmeshed in domestic violence.
The Police Spokesperson said he was arrested on Saturday, October 15, 2022.
A post on his page partly reads, "My greatest hurts will be at my funeral, everyone will be like, Bimbo was such a fantastic human, a clown, she's that one person you had on your sos call, she had the biggest heart, very smart, she looked out for her family. Bobby yen yen yen, my corpse will wake up and shout 'Shut up all of you and put me inside the ground let me be with the lord'."
Abimbola died of severe burns after their house was gutted by fire on Saturday.
She died in a hospital.
Her family has since taken to the social media to demand justice.