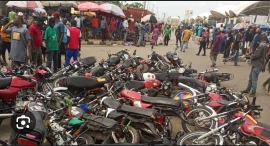 Community
Lagos Taskforce dislodges Okada riders, impound bikes 
CITIZENS COMPASS —Lagos State Environmental and Special Offences (Enforcement) Unit (Taskforce), has raided major routes along Festac, Apple Junction, Badagry Expressway and Berger axis and impounds some motorbikes in the axis. 
The axis were where recalcitrant okada operators have attempted reinitiating operations despite the ban on their activities. 
The operations lasted several hours and was led by the Chairman of the Agency, CSP Shola Jejeloye who stated that the Agency would continue truncating the activities of okada operators if they don't turn over a new leaf. 
He said rhe exercise was in continuation of the Lagos State Taskforce's bid to rid the State of the menace of Okada,
Jejeloye sounded a note of warning after impounding bikes at Berger axis and other parts of the State. 
"Okada operations have been banned and banned for good. Its hightime operators look for a different line of legitimate work or have their bikes impounded and also risk fine or jail term. There is no room for okada operations in Lagos."
The Chairman assured Lagosians that the mop up exercise of okada activities and other activities that go against the THEMES PLUS agenda of the State Government are going to be continuous and deliberate until safety and serenity is completely attained in the metropolis.