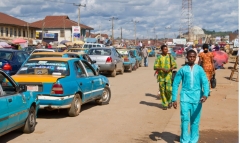 CITIZENS COMPASS – THE Chairman of Akure North Local Government Area of Ondo State, Bankole Ogbesetore and his vice, Anthony Adebusole, have reportedly died within a space of a week. 
The vice was confirmed dead on Sunday , July 15, 2023.
It was gathered that Adebusole who has been sick for some weeks gave up the ghost some days after the demise of his boss.
The immediate past Commissioner for Sports and Youth Development, Saka Ogunleye, who confirmed the death of Adebusole said he died after a brief illness.
He described the death of the two frontline officers of the local government as tragic,  sudden and painful to the people of the local council.
He said, "It is on a sad note, painful and pathetic that I'm here again to announce the tragic death of our council vice chairman Hon Anthony Adebusola.
"This unfortunate death occurred yesterday after a brief illness. Painful that we lost both our elected council chairman and his amiable loyal vice chairman within one week.
"Like a bad movie, so sad a story. I can't understand and I urge you all to pray for us and the family members the two of them left behind,"
It will be recalled that  Ogbesetore, the Chairman of the council died after battling with an undisclosed ailment.
Ogbesetore had been incapacitated for close to a year before he died last Tuesday.
The Acting governor of the state, Lucky Aiyedatiwa, paid a condolence visit to the residence of Ogbesetore last week, before the unfortunate loss of his vice.