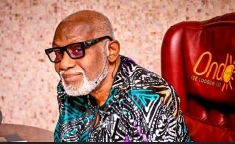 CITIZENS COMPASS —The Ondo State Deputy Governor, Lucky Aiyedatiwa, has tendered an unreserved apology to the state governor, Rotimi Akeredolu, over the embarrassment that the ongoing political crisis must have caused in the state.
Aiyedatiwa, who said the crisis was being caused or fueled by some political contenders in the state, reiterated that he remained loyal to the governor and his administration.
The deputy governor stated this while speaking with journalists in his office in Akure, the state capital.
Aiyedatiwa said, "I am deeply saddened by the embarrassment and discomfort that Mr. Governor has faced due to the barrage of negative news in the state as a result of the events of the last few months. I tender my sincere apology to Mr. Governor on this as our leader in the state.
"Our beloved state has witnessed a series of events triggered by the health challenges faced by Mr. Governor which gave rise to a lot of assumptions, falsehoods, insinuations, misunderstandings, misconceptions, and exploitation by political contenders preparing for the upcoming 2024 gubernatorial election in the state.
"We have continued to read in the media, all sorts of lies fabricated to create crises just for the purpose of election. The recent impeachment attempt by the House of Assembly and the ensuing reactions have further created division and chaos, with my loyalty to Mr. Governor being questioned."
The statement continued, "It is, therefore, imperative for me to put on record that there has never been any issue between Mr. Governor and myself and I have never undermined him. Political actors have only taken advantage of his absence to create a non-existent crisis for their own selfish interests."
The deputy governor commended Akeredolu and the national leadership of the All Progressives Congress for their intervention and roles in resolving the crisis.
He specifically thanked the governor for persuading members of the state House of Assembly to embrace the political solution offered by the APC in the face of the impeachment move.
It is in reference to all of the above that I tender my unreserved apologies to Mr. Governor for the embarrassment and discomfort that the political chaos of these past months has caused him and the good people of Ondo State.
"I remain fully committed to the principles of good governance that Mr. Governor has established, and I pledge my unwavering loyalty to him and I will continue to submit myself under his able, courageous and selfless leadership. 
"I completely distance myself from any group or individuals holding protests or calling on the governor to resign. I have never commissioned any individual or group to engage in such a protest or campaign," he stated.