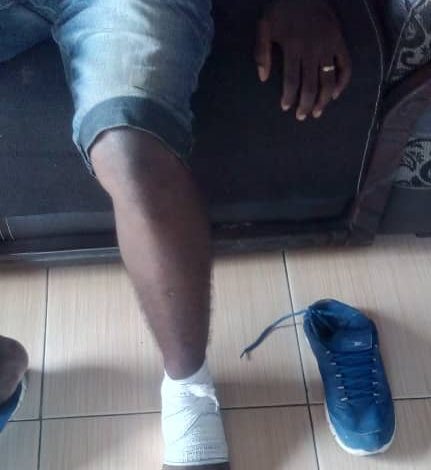 General News
EXCLUSIVE! Agony of June 12 protester: I suffered foot injuries running from Police in Lagos
By Eniolorunopa Oyedeleh
THE various protests of Saturday, June 12, 2021 may have come and gone but the memories remain fresh in the minds of many especially those who sustained injuries at protests venues..
One of such is Orunsolu Oluremi popularlly known as 'Remyte Goonz', who is currently undergoing medical treatment owing to the injuries he sustained on his foot.
In a chat with Citizens Compass, he said he sustained severe injuries on his foot at Ojota area of Lagos after the Pro- Democracy protesters were teargassed by the Police.
In an emotional laden voice, he said, "I participated in the June 12, 2021 Protests held at Gani Fawehinmi Park, Ojota.
"The protests was mid-way where we converged heading towards Gani Fawehinmi Park, suddenly, the Nigerian Police Force fired teargas on us followed by gunshots.
"They blocked us near the park.and we took to our heels on noticing the shootings.
"For safety, I ran into a building across the highway but the Police took after us threatening us with gun and thereafter effected some arrests.
"Many of us scampered for safety in the process and out of fear, I jumped a high fencing into the next building which is a transportation company.
"This uncalculated attempt landed me in trouble as I sustained severe leg injuries but I proceeded to another area of convergence at Toyin Round-about, Ikeja, but the severe nature of the pains did not let me continue the journey.
"Fortunately, I got a helping hand when a comrade assisted me to a nearby medical center for treatment. "said the protester.