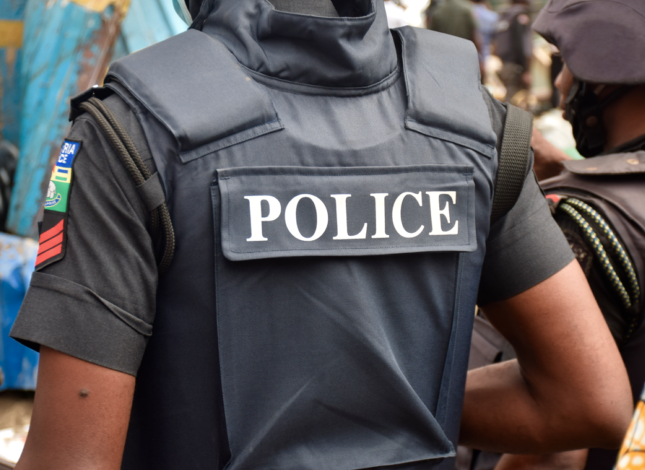 General News
EXPOSED! Police recover human heads in popular cleric's office
CITIZENS COMPASS- POLICE Intelligence team from the Oyo State Command has recovered fresh human head and other body parts.from the office of a popular Islamic cleric, identified as Amuludun.
Police said the cleric is on the run after it busted his office and launched a manhunt for him.
Citizens Compass reports that 11 gang members have been arrested in possession of the fresh human head, nine dry human skulls, intestines and other human body parts during a sting operation.
Spokesperson of the Command, SP Adewae Osifeso, who confirmed this said the suspects were in detention undergoing interrogation and the exhibits were also recovered from them.
He explained that their arrest followed discreet intelligence gathering carried out on 22nd February, 2023 by a Police monitoring unit, who busted the criminal activities of the suspects.
SP Osifeso stated that the operatives cracked down on the suspected ritualists, who specialised in selling human skulls and other organs for ritual purposes in their hideout at Orita-Aperin area of Ibadan, Oyo State.
He however, did not disclose the names of the suspects because of the ongoing investigation over their nefarious activities in the State but confirmed that the 11 suspects during interrogation confessed that they were members of the criminal gang dealing in human parts for sometime before they were arrested.
He further stated that the suspects revealed that the dry human skulls were harvested from burial grounds while the fresh human head and other body organs were harvested from persons after being killed by their kingpin, simply identified as Amuludun, who was at large.
Meanwhile, the wife of the wanted cleric, Amuludun, now on the run, said that she knew her husband as an Islamic cleric and was surprised when the human skulls were found in his office.
She said that she went to her husband's office to collect money for food items when the Police came and searched the office, where the human parts were found and denied that she knew anything about it.
The Police stated that while efforts were being made to arrest the key suspect, Amuludun, the arrested suspects will be charged before the Court for prosecution after the conclusion of investigations by the Police.