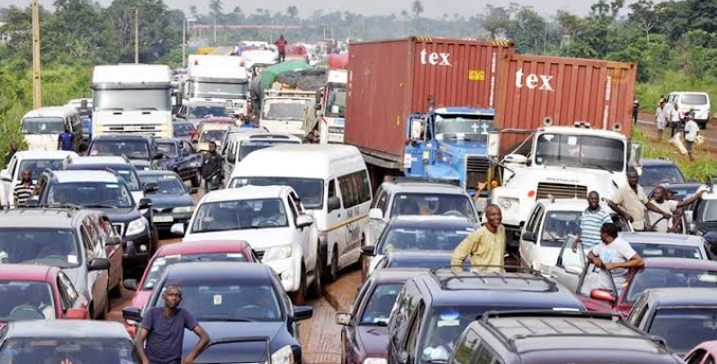 CITIZENS COMPASS-: AS flooding is advanced in some parts of Lagos and Ogun States, street urchins popularlly known as Area Boys have devised another means of survival as they now charge between N200 and N1,000 to push stuck vehicles and people out of flooded areas.
A trip across Lagos and Ogun States revealed how drivers and passengers pay through their nose to 'settle' the Area Boys who ferry them across flooded areas.
The visit revealed how the Area Boys carry many occupants of vehicles, mostly females, on their backs while vehicles who were stuck in the mucky waters were being pushed. 
An example was the traffic gridlock along Lagos-Ibadan Expressway, inward Lagos, which started earlier on Saturday, September 17, 2022,  from the middle of the Long-bridge down to Ikeja axis. 
It was learnt that vehicles and their occupants, who tried to beat the traffic by plying any available paths, ended up with sad memories as they were not only trapped under the bridge, but had to pay through their nose. 
As gathered, some of the vehicles had to part with N1,000 after being pushed out of the mud while passengers, especially females, who could not access the flood, were backed by Area Boys who charge the sum of N200 each.
A commercial driver Ridwan Adio, whose vehicle was stuck in the flood  told Citizens Compass that over 37 vehicles queued behind him awaiting being pushed out of the flooded area.
A female driver Sola Akinleru who experienced same scenario said over 10 vehicles were pushed in his presence. "The Area Boys were on ground and payment must be made as soon as your vehicle was pushed out of the flood. This is better than paying for towing vehicles." She said.