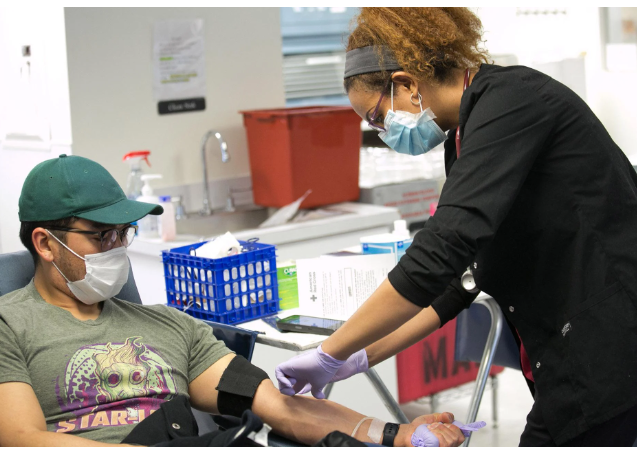 THE General Hospital, Ijede, Ikorodu, Lagos State, has marked this year's World Blood Donor Day.
The event features dignataries in the health sector within Nigeria.
Speaking at the event, Deputy Medical Director (DMD),, Dr. Olumuyiwa Balogun-Oluwa, asserted that blood is very vital to human life, describing it as the red fluid circulating the human blood vessels and a means of distributing nutrients, circulating water and carbon dioxide to the body.
Balogun-Oluwa said with the event with theme, "Give Blood and Keep the World Beating", blood helps to eliminate waste materials from the kidney and digestive system in the body.
He said it was also essential in fighting infections while carrying hormones around the body and urged the citizens to donate blood regularly to save the lives of others who are in dire need, stressing that apart from helping others, blood donation also helps the donor in so many ways.
"When you donate blood at the hospital, you get a free hepatitis bank check, get free HIV, syphilis and blood level checks. Donating blood also lowers one's risk of heart diseases, reduces stress, helps in lowering the risk of cancer, lowers cholesterol levels in the body, aids in weight loss and so on".

The general hospital, Ijede.
He stated that donated blood assists in relieving acute or chronic blood deficiency situation in recipients, adding that it also supports relieving symptoms associated with anaemia, which may include heart attack, fainting, poor wound healing, poor memory and health in kids, among others.
Dr. Balogun-Oluwa said, "Types or groups of blood are based on the presence or absence of antibodies and antigens from our parents. These include blood group O, A, B and AB. Individuals with blood group O are universal donors; Group A can collect blood from fellow A and O, Group B can collect blood from fellow B and O, while AB can collect blood from A, B, O and AB itself"
"Studies have revealed that people who donate a lot of blood have tendencies of living longer than less frequent donors, as regular blood donors are at lesser risk of dying prematurely than those who rarely donate blood", he explained.
Affirming that an individual who has cold, flu, sore throat or any other infection cannot donate blood, Balogun-Oluwa added that sickle cell patients also fall into this category due to their low blood level.
The DMD, however, advocated for more voluntary blood donors as this will go a long way in fighting against illnesses, diseases and injuries in society.