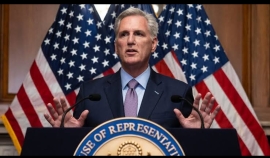 News
How Primate Ayodele foretold emergence, impeachment of US Speaker, Kevin McCarthy
At every point in one's life, God is needed and an attempt to downplay or neglect the role of God in pursuit for success will only lead to a directionless life.
The ousted US Speaker, Kelvin McCarthy highly received favour from God, His emergence as the speaker of the United States senate was not without God's backing. His eventual victory was foretold by Nigerian prophet, Primate Elijah Ayodele and we know that when prophets speak, they speak the mind of God.
Through Primate Ayodele, We know God threw his weight behind Kevin McCarthy and this was proven with the circumstances that led to his emergence. McCarthy faced several troubles in his quest to become the speaker of the senate but it was easy to face because since 2022, God had spoken through Primate Ayodele that He will face different challenges to become the speaker.
Primate Ayodele in a video publication then explained that God revealed to him that McCarthy will face opposition within his party and that someone will stand against him but assured
''McCarthy must not sleep, I see someone coming out to oppose him, to make the race more difficult for him. Despite all that, I still see McCarthy winning. God is interested in everything that is going on in the world. McCarthy must take his matter very serious''
This prophetic revelation was fulfilled in 2023 when McCarthy escaped loss at the election by a whisker. In the history of US Senate speakership election, it had never been intense like it was during McCarthy's. He faced oppositions and difficulties just like the prophet foretold.
However, Primate Ayodele went further days after his emergence that McCarthy will not have it easy in the house. He explained that there will be tension in the United States political atmosphere which may consume McCarthy if he doesn't restrategize. He stated that McCarthy needs to put things in place or else, he will continue to miss his ambition.
''Before the calamity which befell Kevin McCarthy, I warned him. But if he continues without re-strategising and making sure that he involves God in his matter, he will continue to miss his ambition. I have said it before. He should do what is needed and put all the factors that are needed into place and consideration. The US election is a tip of the iceberg of what will happen during Nigeria's coming election. Even in the US, there will still be serious political tension in the coming year.''
It appears Kevin McCarthy after his victory as speaker failed to listen to the following prophetic warnings which were a blueprint for him to succeed. He didn't realize that God wanted him to be there but He has roles to play too. Primate Ayodele warned him about things to do in order to avoid missing his ambition but it seems he didn't listen and this led to his unfortunate removal.
Some months later, Primate Ayodele clearly expatiated on his revelations for Kevin McCarthy in the house. He categorically mentioned that McCarthy will not have a grip on the house and that he will lose strength and will perform less than expected.
''I have this word for you McCarthy. You know what you have passed through but you will not be able to hold the grip of the house. There will be major influence of opposition in his government and of course, he will lose his strength where they need him to perform, he will less perform.''
It is important to note that this has never happened in the history of US Politics, Kevin McCarthy is the first speaker to be removed from office. This further explains that Primate Ayodele didn't just utter mere words but divine instructions for the embattled US speaker. The prophet foretold his emergence yet revealed what will lead to his untimely exit as speaker if he doesn't listen to instructions.
Sadly, McCarthy lost grip and strength, leading to his impeachment just as Primate Ayodele foretold.