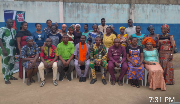 CITIZENS COMPASS– NO fewer than 50 beneficiaries were empowered over the weekend, by African Democratic Congress (ADC) candidate for Ikorodu Constituency I in the 2023 Lagos State House of Assembly elections.
The beneficiaries who consist youths and women were empowered on Telecom business.
The candidate, Oladapo Moses, said the event was organised by Joint Association of Non-indigene (JANIN) and sponsored by Osmosis Campaign Organisation.
explaining the rationale behind the selection, he said this came through recommendations from each ward.
According to him, the beneficiaries were empowered to start Telecom business services with telecommunication lines and start up data.
During the event, early risers also got their wallet credited between N1,000 and N5,000 each once token was received.
Moses said: "At Osco, (Oladapo Moses Campaign Organisation), we believe it is better we empower our constituents. This is what we are used to do, not because of the upcoming elections but because it is part of us.
"We believe in empowering people so that they will not be running to politicians for 'little little things'.
He said plans are in top gear to empower many people in his constituency on different skills so that they would be independent.
Moses advised beneficiaries to judiciously use the opportunity given to them to be self reliant and be able to take care of their families.
"We have a series of empowerment lined up this campaign season and once we win, it will continue, empowering our people is a continuous program and will be scaled higher as time goes on.
" We have programs for the youths, women, men, primary and secondary school students, and in various sectors, we decided to start with this so as to encourage all little beginners.
Moses said that his group decided to start with telecom business to encourage all little beginners as the trainer explained.
He added that recharge card businesses are like sachet water used by people who have phones.