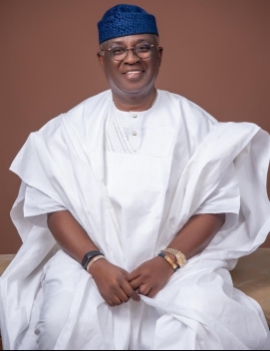 Politics
How Tinubu can tackle corruption, rising cost of petrol —ADC Senatorial candidate, Yomi Idowu 
CITIZENS COMPASS —Yomi Idowu, the Senatorial candidate for the African Democratic Congress (ADC), during the 2023 elections in Lagos State, has advised President of the Federal Republic of Nigeria, Bola Ahmed Tinubu, on how his administration can tackle rising costs of Premium Motor Spirit (PMS). 
He disclosed this recently, while speaking as a guest on a radio programme, Soni Irabor Live. 
According to Idowu, the subsidy removal adopted by the Federal Government is supposed to help the poor as it is done in many other countries but few privileged people have turned it into a criminal enterprise which has impoverished the poor and enriched criminals. 
The Senatorial candidate who doubles as Chairman, Lekki Residents Association (LERA) in the Eti-Osa Local Government area of Lagos State, said as a way out, President Tinubu should cancel import duties and Value Added Tax (VAT) on imported petroleum products. 
He said this will significantly reduce pump prices across the country.
The Candidate advised the President to probe those working against the progress of subsidy removal, "The administration of President Bola Ahmed Tinubu should immediately set up an independent panel, to conduct the probe as he did in the case of the CBN.
" Whilst doing that, something should be done also immediately for the suffering masses.
He should cancel import duties and VAT  on imported petroleum products, this will reduce the pump prices significantly,"
he said. 
Speaking about the 2023 elections, Idowu said, "Contesting in a national election is not only about winning but also about sharing your thoughts on good governance with those that won. This is called nation building.
" This is why I will continue to support the administration of President Bola Ahmed Tinubu + and share my thoughts for good governance, after all we are all stakeholders." 
On rising cost of living, he said, "One of the reasons for inflation rate is the consequence of unifying the exchange rate, which is an excellent move but the negative effect on us can be corrected.
" This is because the import duty on all items was calculated based on the new rate of N750 which later increased to over N800 from the initial N460.
" The government should, as a matter of urgency, relieve people from suffering by using the initial N460 or N350 to calculate the import duties at least for the next one year till the economy is stable. 
" This will bring down inflation, resulting in a drop in prices of essential items, since we import almost everything." 
On corruption, he said,
The report by Femi Falana SAN "CATALOGUE OF LOOTINGS IN NIGERIA " will be a good starting point. This is our only country and we must salvage it together.