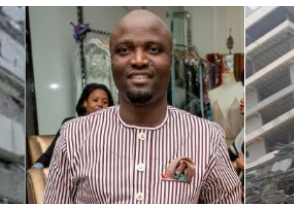 General News
Ikoyi collapsed building: Body of US-based Wale Bob-Oseni recovered 
THE corpse of Wale Bob-Oseni, a United States of America-based businessman, has been recovered from the 21-storey building that collapsed on Gerrard Road in the Ikoyi area of Lagos State.
The body was recovered  on Friday during the recovery operation at the scene of the incident.
A family member who was at the site if the collapsed building said the body was found on Friday.
Recalled that the body his business partner, Femi Osibona, the Managing Director of Fourscore Heights Limited and developer of the collapsed building, was also recovered same day.
Bob-Oseni, a real-estate developer, was on his way back to the US on Monday when he received a call from Osibona to check out the project.
Both partners were subsequently trapped when the building collapsed.
Our correspondents had reported that the 21-storey building crumbled on Monday around 2pm when Osibona, who owned the project, his clients and workers were on the site.
However, the death toll has hit 38 at press time.