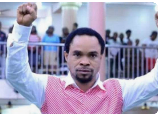 CITIZENS COMPASS- THE popular Anambra- based pastor Chukwuemeka Ohanaemere, popularlly known as Prophet Odumeje has said that he has completed his earthly assignment and will die soon.
The Founder, Mountain of Holy Ghost Intervention and Deliverance Ministry,  stated this while preaching in the church.
He said the clock tickles for him and it is time to return to his creator.
Odumeje fondly called Indaboski said he had a heart-to-heart talk with his first son, David, and informed him that his last days in the world are near.
He told the boy to prepare to be the man of the house who will take care of his siblings and mother when he (Odumeje) is gone.
The cleric explained that the purpose for which he came to the world has been fulfilled.
"I have called my little son, King David, and I told him that very soon, I, your father will leave. You must take care of your mother and brothers.
"I came to this world for a purpose, and that purpose has been fulfilled. I have finished my earthly ministry, and I will leave soon," he said.
Odumeje, who is 40 years old, became a viral sensational pastor as a result of his weird pattern of conducting deliverance, where he carries members seeking miracles in a manner akin to the World Wrestling Federation (WWF) wrestlers, and smashes them on the floor.
He has fought several battles and challenged many native doctors to open contests on their ability to perform miracles.
The man of God recently said that he went to have a battle with the devil in the underworld and came back with a championship belt.