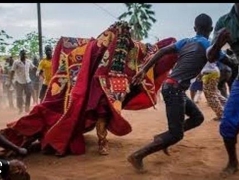 CITIZENS COMPASS – THE Chief Imam of a mosque, in Ile-Ile, Osun State, Abdul-Lateef Adediran, was among some worshippers that were reportedly injured when some 'Oro' adherents invaded their mosque.
This occurred at about 4p.m.on Thursday, March 30, 2023
It was gathered that the Muslim worshippers were inside the mosque on Thursday evening preparing for the 4pm (Asr) prayer when the traditionalists, who were carrying out the Oro ritual, attacked the mosque.
The worshippers were said to have been stabbed and pelted with stones and some of them including the Chief Imsn were injured in the process.
It was learnt that traditionalists in the town had on Wednesday announced that Oro cult will be observed in some parts of Ife between 2pm to 7pm, thereby warning residents to steer clear of the areas.
The traditionalists were said to have thronged the mosque located at Idi-Omo, Ilare to disperse the worshippers who were performing ablution inside the perimeter fence of the mosque.
According to one of the worshippers in the mosque, Abdulazeez Bashir, the Oro adherents entered into the fence and started flogging worshippers with cane instructing them to leave the ablution area.
One of them even attacked the Imam, Alhaji Abdullateef Adesiyan while coming into the mosque. He was beaten with a cane and hit him on the face with a rod.
"When I discovered that about five persons have been injured, apart from the Imam of the mosque, I had to call the Ife Chief Imam to intimate him of the happenings.
"The situation could have escalated into a big religious crisis when other Muslims began to gather around, but the traditionalists eventually ran away. The victims were later taken to hospital for treatment", he said.
Following the invasion, mmbers of the Muslim community in Ile-Ife, on Friday, March 31, 2023, staged a peaceful protest.
The protesters said on Thursday, the traditionalists entered the mosque, where some Muslims had gathered to observe the 4pm prayers, and attacked those they found in the building.
Beside the chief imam of the mosque, Abdul-Lateef Adediran, who was reportedly injured in the face, five other worshippers were allegedly stabbed during the attack.
When contacted, the Osun Police Command spokesperson, Yemisi Opalola confirmed the incident, saying the investigation has been launched into the mosque invasion.
We deployed our men to the scene and normalcy has returned to the area while we have commenced an investigation to the alleged mosque invasion.
Well meaning Nigerians have since condemned the invasion.