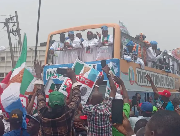 Politics
It's a lie, Tinubu didn't throw Naira notes at crowd – APC
CITIZENS COMPASS– THE All Progressives Congress (APC), Lagos State, has debunked the reports claiming that its Presidential Candidate, Sen. Bola Tinubu, threw bundles of Naira notes at supporters during the grand finale rally of the party in the state.
Rather, APC said the candidate threw leaflets and fez caps at the Teslim Balogun Stadium, Surulere, venue for the rally.
APC's Publicity Secretary in Lagos State, Seye Oladejo, said in a statement that the report emanated from the party's opponents who were dazed by the success of the rally.
Oladejo said that the political opponents resorted "to planting fictional story of Naira-throwing by our candidate, Asiwaju Bola Tinubu".
He added: "In a currently trending post, the orchestrated report purports that Asiwaju Tinubu threw wads of bank notes to a cheering crowd at Oshodi as his motorcade rode past from Lagos airport en route Teslim Balogun Stadium, Surulere, Lagos.
"It is nothing but a lie from the pit of hell
"It is part of an ongoing well-oiled campaign of calumny in a compromised section of the media to project Asiwaju in bad lights at a time millions of Nigeria are unable to access their hard-earned cash deposited in the banks.
Asiwaju has championed the cause of long-suffering Nigerians that they be allowed to spend old bank notes pending when CBN is able to make adequate new bank notes available.
Where will Asiwaju have seen new notes to be throwing on Lagos highways?"
The spokesman said that the party would have ignored the report but chose to issue the statement for the sake of those who might be deceived by the report.
According to him, a closer look at a short video attached to the referenced report will reveal that two APC leaders are the ones actually throwing branded APC fez caps and leaflets to the cheering crowd," It is certainly not Naira notes.
"We urge our supporters and all right-thinking Nigerians to remain calm and vote for Asiwaju Tinubu and all APC candidates on Saturday, Feb. 25," Oladejo said.
The ruling APC on Tuesday held its final rally in Lagos.
The rally was attended by the party's bigwigs including President Muhammadu Buhari.