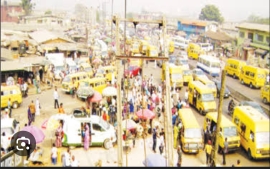 CITIZENS COMPASS – THE Lagos State Government says it will divert traffic at the Alagba Ramp, Iyana – Ipaja inwards Lagos on Lagos-Abeokuta Expressway. 
This takes effect on Thursday, August 24, 2023, for the duration of 18 weeks.
The Permanent Secretary, Ministry of Transportation, Engr. Abdulhafiz Toriola, who disclosed this on Wednesday, August 23, 2023, explained that the project "is in continuation of the Iyana Ipaja Bus Terminal Project"
According to Toriola, "The alternative routes that would be available for motorists during the construction period are:
"Motorists inbound Lagos/Abeokuta Expressway from the Iyana-Ipaja Bridge will be diverted to Alagba intersection to link the slip road on the left side of the Alagba roundabout to access Lagos Abeokuta Expressway.
"Heavy vehicles from Egbeda/Alagutan inbound Agege or Abule-Egba will be diverted to the Lagos- bound slip road Ecobank Roundabout to make a U-turn at Iyana Dopemu to continue their journey."
Toriola, therefore, urged motorists to be patient as the closure of the ramp is temporary and part of the traffic management plans to enhance mobility and ensure safety of general public.