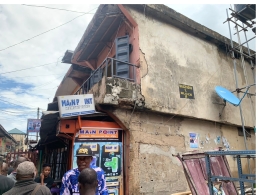 Community
Lagos govt set to demolish buildings at Alaba International Market 
CITIZENS COMPASS – THE Lagos State Government on Friday, June 16, 2023, said it will demolish 17 defective buildings  in the Alaba International Market, Ojo Local Government of the state effective Monday, June 19, 2023.
The News Agency of Nigeria (NAN) reports that the enforcement team of the Lagos State Building Control Agency (LASBCA) and the Lagos State Task Force embarked on the process leading to the demolition.
The team which went round to re-seal several buildings that had been marked with previous multiple quit seal notices by LASBCA, said the measure was to prevent disaster.
They advised occupants on the need to move out of the structurally defective buildings which they said had become too dangerous for habitation.
A NAN correspondent on the delegation observed that some of the buildings undergoing reconstruction were tilted.
Conducting journalists round, the enforcement director pointed out some storey buildings that were already sinking but being extended with additional floors.
The front row of shops of one of the sinking plazas was beautifully adorned with tiles and other materials while the back was tilted on marshy land.
Some of the traders who spoke with journalists alleged that they had made some payments toward obtaining building approvals before embarking on renovations.
Responding to the situation, the General Manager, Lagos State Building Control Agency (LASBCA), Mr Gbolahan Oki, told journalists that the government was going to demolish it to save lives.
Oki said he usually panicked every time it rained because of the likelihood of any such buildings collapsing to cause mayhem.
He said the government valued the lives of residents which were more precious than the cost of any property.
According to him, the government was taking a proactive step and will demolish about 17 of the buildings which were not part of the 349 widely publicised for demolition.
Oki said the occupants had been served a series of notices since 2016 to carry out some necessary actions but they had been adamant and resorted to harassment of enforcement officials.
–NAN