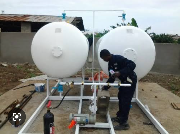 CITIZENS COMPASS– LAGOS State Government will henceforth go after retail gas operators who contravenes safety rules in the state.
This was the submission recently, at the opening ceremony of Oil and Gas Stakeholders' Safety Summit, which held in Ikeja, with the theme: "Safe Retail Gas Operation in Lagos State,"
Speaking at the event, the Director-General Lagos State Safety Commission, Lanre Mojola, noted that the outlets of such operators would be shut down.
Represented at the event by the Technical Adviser of the Commission, Seun Awojobi said that the summit was aimed at training operators on how to handle Liquefied Petroleum Gas (LPG) in better and safer ways.
"We know of past incidents that had happened, some ranging from industrial to residential accidents where several lives were lost.
"The Safety Commission's mandate is to ensure that the lives and property of all residents in the State are safe and protected."