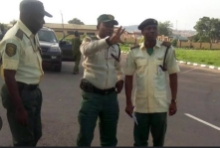 Community
TRACE kicks against indiscriminate parking, display of wares by roadsides
…takes campaign to public places 
CITIZENS COMPASS – Ogun State Traffic Compliance and Enforcement Agency (TRACE) has sensitised people against indiscriminate parking of vehicles, display of wares by roadsides and walkway abuse. 
The public sensitisation and enlightenment was taken to major markets and other public places in Abeokuta.
Speaking during the campaign, the Divisional Commander, Abeokuta, Commander Gabriel Odunlami said, the TRACE Commander and Chief Executive Officer, Commander Olaseni Ogunyemi gave the go ahead for officers under his command to Sensitise the public on the need of free flow of traffic in the metropolis, as the abuse was on the increase.
He urged market women, Road Transport Associations and other road users to comply for the good of all, as Ogun State Government would soon embark on enforcement to tackle the menace.
"We are embarking on this sensitization program to market places, motor parks in the metropolis to improve the movement of people and have free flow of traffic on our roads. The Government is against the Indiscriminate parking, display of wares or various goods on our roads and abuse of walkways and after this sensitisation is enforcement by the relevant agencies of Government" he said.
At Panseke market, the Babaloja, Alhaji Taoreed Amodemaja, explained that the sensitization was a good development and promised to abide by the decision of the State Government.
Also speaking, the representative of Hausa and Igbo traders at Kuto market, Yakubu Usamotu and Blessing Ajah, promised to tell their friends and support the Government to have clean environment and free flow of traffic on the roads.
Other areas visited were Iyana Mortuary, Sapon, Itoku and Omida markets.