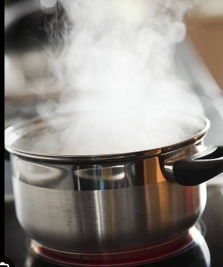 Community
Landlady pour hot water, pepper on tenant over house rent 
CITIZENS COMPASS —Police in Anambra State have arrested a landlady, Amaka Okonkwo for bathing her tenant with hot water mixed with pepper over her inability to pay house rent in Anambra state.
The incident occurred on Thursday at the Enugwu-Ukwu community in the Njikoka local government area of the state.
It was learnt that the tenant, Imabong William, had been given a quit notice over her inability to pay a new rent imposed on tenants in the building but had sought time to find a new apartment before her landlady bathed her with hot water mixed with pepper. 
Sources within the community said the victim, who hails from Akwa Ibom State, was already receiving treatment at an undisclosed hospital after neighbours rescued her.
The police had also arrested the landlady after neighbours reported her action at Nimo police station.
Anambra State Commissioner for Women's Affairs, Mrs Ify Obinabo, who visited the victim, narrated that the victim stated that she was asked to vacate the house over her inability to pay the new rent increment.
She explained that she demanded some time to enable her to get a new place, but unfortunately, while washing her clothes on Thursday, the said landlady poured hot water mixed with pepper on her from behind.
Obinabo stated her displeasure over the incident and promised to get justice for the victim.
She warned that the Anambra State government would not take lightly anyone found guilty of assault and advised the public to report crimes and misdemeanors at the appropriate channels for quick intervention.