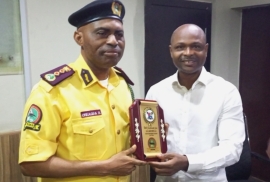 CITIZENS COMPASS – THE Lagos State Traffic Management Authority (LASTMA), on weekend, played host to some Sierra Leonean transport officials on effective and efficient traffic management in Lagos.
LASTMA General Manager, Mr. Bolaji Oreagba, while welcoming the visitors to his office at Oshodi, disclosed that the main purpose for the establishment  of the Agency was to transform the State transportation system and ensure free flow of traffic and reduction in road accident across the State.
He said LASTMA was established in year 2000 by the then administration of Asiwaju Bola Ahmed Tinubu. 
Oreagba disclosed further that to properly manage and control traffic in Lagos, the Agency operates an efficient operational guideline which comprises of seven Comptrollers that covers the three Senatorial Districts of the State, 21 Commanders and 45 Zonal Heads including BRT (1 & 2) as well as the Free Trade Zone.
He stated that all working ethics of the Authority, including all its operations, are being regulated by the Lagos State Transport Sector Reform Law of 2018 as reviewed.
The General Manager confirmed that the Government is currently adopting modern technology innovations in addressing transportation challenges by installing Automatic Number Plates Recognition (ANPR) Camera which captures images of vehicle license plates on roads, CCTV Cameras, and also equipping traffic officers with the newly introduced hand-held Traffic Management Solution (TMS) Device which captures real time traffic violations on the roads, in addition to signalised intersection and junction improvement.
He added that the Lagos State Government also established Mobile Court to adjudicate on traffic related matters since the Agency cannot be a judge in its case against offenders.
Mr. Oreagba averred that some of the traffic offences refer to the Lagos Mobile Court by the Agency include obstructions, driving against traffic 'one-way', illegal parking, illegal U-turn, dropping/picking passengers at undesignated bus- stops, disobeying traffic lights/officials, reckless driving and illegal parking on walkways/kerbs among others.
He stressed that the Agency collaborates with the Lagos Metropolitan Area Transport Authority (LAMATA) by sanitising the brt corridors from motoring public in order to pave way for smooth movement of commuters from one designation to another across the State.
During his address, the Director, Ministry of Transportation and Aviation of Sierra Leone and leader of the team, Mr. Hindolo Shiaka thanked Mr. Bolaji Oreagba for the detailed presentation of the Agency's operational guidelines and legal framework  in line with dictates of effective traffic management and control.
Mr. Shiaka equally appreciated the Lagos State Government for the establishment of the Lagos State Mobile Courts which ensure fair hearing and Justice to motorists.
According to him "We came here from our County (Sierra Leone) to understudy the operational guidelines including Legal framework of LASTMA inline with traffic management and control in order to  improve/upgrade our transportation system"
Mr. Shiaka however promised to strengthen the cordial relationship between LASTMA and the Sierra Leone Ministry of Transportation and Aviation.