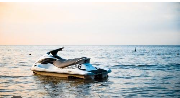 CITIZENS COMPASS– AS a result of overspeeding, a yet-to-be identified adventurer has reportedly drowned in the Lekki-Ikoyi inland waterways in Lagos State.
The incident occurred on Wednesday evening although the victim's destination could not be ascertained at press time.
Emergency responders have swung into action combing the waterways in search of the man.
The Permanent Secretary, Lagos State Emergency Management Agency (LASEMA), Dr Oluwafemi Oke-Osanyintolu disclosed this to newsmen on Wednesday.
While giving an update about the incident, he said , "It was discovered by the agency's responders on duty at the Lekki base that an unidentified male adult drowned at the Lekki-Ikoyi inland waterways as a result of over speeding while he was riding on a jet ski at the said location.
"Efforts are ongoing involving LASWA divers and LASEMA officials to retrieve the body of the adult male whose body has unfortunately sunk too deep to be rescued. "
Jet skiing is a water-based activity where revelers ride a small jet-propelled vehicle that skims across the surface of water, typically like a motorcycle