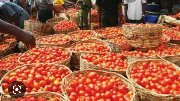 CITIZENS COMPAS– TRADERS at the Mile 12 Market in Lagos State have lamented demolition of their shops by Ikoshi Isheri Local Council Development Area (LCDA).
The demolition took place within the week at the Redbridge section of the market.
However, the victims said there was no prior notice by the LCDA.
They alleged that the Council ordered thugs who stormed the area in the company of security operatives to demolish a section of the market.
A victim, Usman A Salihu, said he woke up early on Thursday and noticed that hoodlums had invaded the area, removing shop roofs and causing destruction.
He said, "We just saw them removing the roofs of our buildings; the majority of the people living in the area are Hausa traders from the North."
He said due to the directive by a former Lagos State Governor, Raji Fashola, who advised them not to be sleeping inside the market, most of them acquired shops in that Redbridge area and converted them to residences where they stayed with their families.
Another victim, Fatima Afolabi, said, "I was told that someone has purchased the place. The LCDA has sold the area we occupied to someone, and even if that is the case, they should have let us know; they should have given us time to remove our belongings from the building, but we just woke up and found hoodlums in our area destroying our property."
Another victim, Abdul'aziz Gbomiwa, who operates a POS centre, said his shop was burgled by the hoodlums and that he lost property worth N2m.
The victims have therefore appealed for justice in the matter.
The Chairperson of the council could not be reached at press time.
–Daily Trust