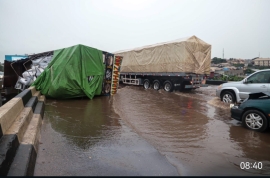 CITIZENS COMPASS —Road users on Otedola bridge in Lagos, were on Tuesday, September 12, 202, stranded for hours. following the death of a motor boy in an accident which occurred on the Bridge. 
It was gathered that the motor boy fell and died immediately as a truck conveying wheats overturned amidst downpour inward Berger area. 
Operatives of the Lagos State Traffic Management Authority (LASTMA), Lagos State Emergency Management Agency (LASEMA), the Nigeria Police, Lagos State Fire and Rescue Service and sister agencies were on ground to perform rescue missions. 
LASTMA spokesperson, Adebayo Taofiq while confirming the incident quoted Oduyebo Oluwole, 'Zebra' (Zone 2) who said the fatal accident caused severe congestion for road users travelling along the 7Up-Berger section of the Lagos-Ibadan Expressway. 
"Priliminary investigation revealed that the truck driver could no longer control the truck after noticing a brake failure while on a top speed under the heavy rain"
"LASTMA Oluwole confirmed that the dead body of the motor boy was recovered under the Otedole bridge and immediately handed over to Lagos Environmental Health Monitoring Unit (SEHMU) by LASTMA officials.
He confirmed further that while the truck was fully recovered off the Otedola Bridge after the completion of trans-loading of wheats into another truck, the blocked side of the Expressway on was totally opened for vehicular movement around 5:30pm.
Other emergency responders at the scene of the accident include LASEMA, SEHMU, Police men from Isheri Police Division and other passersby.
Similarly, the Permanent Secretary, LASEMA, Dr Olufemi Damilola Oke-Osanyintolu in his updates, captured the scene saying, "On arrival at the incident scene, it was discovered that a truck with unknown registration number  was involved in a solitary accident. 
" Further information gathered at the scene revealed that, the truck while descending the hill from Mobil filling station inward OTEDOLA was trying to avoid collusion with another vehicle,lost control  and crashed into the side of the bridge. 
" The driver compartment was found hanging down the bridge with some of the product (wheat) all over the road blocking the entire route under the bridge inward Otedola estate. 
" A young adult male who happens to be one of the occupants of the truck fell off the bridge and lost his life. 
" The Agency's Crane has been dispatched for swift recovery of the impediment."