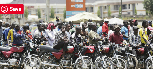 CITIZENS COMPASS– THERE was confusion in Solomade area of Ikorodu on Wednesday, following clash between a team of Policemen and commercial motorcyclists popularlly known as Okada riders.
This took place in the morning as the Policemen were said be enforcing the law.
According to eyewitnesses' accounts, some Policemen were in Isawo area on Tuesday night where some Okada riders were operating at odd hours but efforts to apprehend them were unsuccessful as they were said to have escaped from the area.
Speaking with Citizens Compass, a commercial motorcyclists, Alademeru Akintimehin said his colleagues were dispersed by the Policemen.
According to him, the riders escaped to different directions including Solomade area.
This was said to have promted the Policemen to reinforce and beam their searchlight to Solomade the day after, only to discover some flash points in the area.
Alademeru said, in the cause of enforcing the law, the Policemen were attacked by some riders. "It did not end there, some hoodlums also joined the riders to attack the Policemen and the situation turned
rowdy." He said.
It was gathered that during the crisis, the Divisional Police Officer (DPO) of Ipakodo ran into the scene and was attacked.
Scores of motorcycles were said to be impounded but no life was lost to the incident.
Citizens Compass could not ascertain the number of injuries sustained or impounded motor bikes.
An elderly man who pleaded anonymity said his son's motor bike was impounded in the process.
The Vice Chairman, Motorcycle Owners Association, Lagos State, Mr Kayode Pashoku, popularly known as 'Jendor' said he had cautioned his members to avoid late night operations.