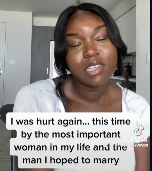 CITIZENS COMPASS– A media personality, popularly known as Vanessa, has narrated how her boyfriend of three years impregnated her biological mother.
She disclosed this in her social media posts expressing disappointment on the issue..
Vanessa in a video, could not hide how heartbroken she was saying that she has been hurt severally in the past, and was only trying to open her heart to love again, unknown to her that she was going to be in a bigger mess this time.
"Despite opening my heart to love after consistently being hurt, I was hurt again, this time, by the most important woman in my life and the man I hope to marry."
The kindest souls always finish last. I don't deserve this". She wrote in her caption.
She further said this is not the end of it. Aside her mother, she also discovered that the boyfriend had been having affairs with many women while they were together.
She found out that he got divorced last year, and she didn't even know that he was married during their 3-year relationship.
–Real_Gist