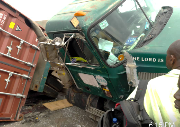 CITIZENS COMPASS – THE Sector Commander, Federal Road Safety Corps (FRSC), Lagos, Olusegun Ogungbemide has attributed the cause of the Thursday multiple accident that saw a 40ft container falling on vehicles along the Oshodi-Apapa Expressway in the State, which claimed the life of the truck driver and injured some others.
He disclosed this in a live appearance on Channels Television's Sunrise Daily on Friday.
"If you look at where we are coming from, virtually every day, you would see issues of crashes involving tankers, containers falling on people. And that was what brought about the policy of latching and twist-locking. What we witnessed yesterday is quite unfortunate, that we had to lose a life.
"Before now, we've been having these issues of containers happening, maybe due to bad roads and misconduct of the drivers. But lives have not really been lost because of a policy. The event of yesterday would have been more devastating if not for the policy of making sure that the container is twist-locked or latched.
"The man that caused that problem yesterday must be produced by the owner of that vehicle. The system has commenced. He can only run; he can't run forever because until we decide to take responsibility for our misbehaviour and misconduct on the highway, it will continue to be business as usual. But the narrative has changed," he said.
Speaking on the forensic investigation of the recent incident, Ogungbemide noted that the articulated truck that conveyed the fallen containers had complied with the regulation.
"Yes, it was. If you watch the video or the picture of that truck, the container was still with the truck, only that it fell on that vehicle, which the preliminary investigation confirmed that it was the misconduct or recklessness of the driver," he said.