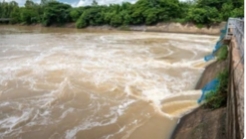 Community
NEMA speaks on planned release of  water from dam
CITIZENS COMPASS —THE National Emergency Management Agency (NEMA) wishes to allay the fears of Nigerians over the planned release of the excess water from Lagdo dam, which is located on River Benue in the Republic of Cameroon.
NEMA representative, Manzo Ezekiel from Abuja Headquarters in a statement on Sunday, August 27, 2023, said the Agency is working with critical stakeholders at the  Federal, States and Local  Governments to ensure that the release will not cause much negative impacts on the low-lying communities along the states that would be affected.
He said the states on the downstream of River Benue are Adamawa, Taraba, Benue, Nasarawa, Kogi, Anambra, Enugu, Edo, Delta, Rivers and Bayelsa States.
The Agency envisaged this release of excess water from the Lagdo dam,  taking note of the likely impacts and considered in the preparations for mitigation and response to the 2023 flood alert.