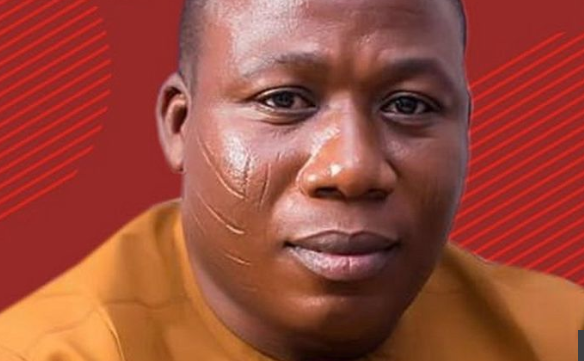 THE Nigerian Army has said that its troops were not involved in the invasion of the residence of Yoruba Nation agitator, Chief Sunday Adeyemo, popularly known as Sunday Igboho, in Ibadan, Oyo State, earlier on Thursday.
According to eyewitnesses, Igboho's house in the Soka area of Ibadan was attacked by men allegedly dressed in military uniforms.
The attackers were said to have raided the premises in the early hours destroying valuable assets in the buildin
However, the army spokesperson, Onyema Nwachukwu, said that he was not aware of the incident.
Nwachukwuabsolved the Nigerian Army from being part of the attack on Ighoho.
He said, "There's nothing like that. I don't have that information. Soldiers did not carry out an attack on Igboho."
Prof Akintoye speaks on attack 
Meanwhile, the leader of the umbrella body of Yoruba self-determination groups, Ilana Omo Oodua, Emeritus Professor Banji Akintoye, in a statement  made available to newsmen by his Communications Manager, Mr. Maxwell Adeleye said, "the assailants were all dressed in military uniform and spoke French language fluently."
The statement was titled, 'Yoruba Nation: Elements of the Nigerian Army, Accompanied by International Terrorists hired by the Nigerian State attacked Sunday Ighoho's Residence – Akintoye.'
According to the Communications Manager, Akintoye alleged that  "the gunmen killed seven occupants in the building and whisked Igboho's wife and several others away."
Igboho's wife, others regain freedom 
Similarly, gunmen have released Chief Sunday Igboho's wife, and some others who were abducted during the attack have regained their freedom.
The abductees were released in Ekiti State but the abductors were said to have went away with a lady blogger and  six others.
Eye witnesses' account said immediately after the attack, the gunmen headed towards Iwo Road axis to connect Ekiti State State where they released the abductees.
She added that the gunmen felt reluctant to release a lady blogger and other six(6) boys while in Ekiti State.
The eye witness who pleaded anonymity said five bodies had been deposited at a mortuary in Ekiti State by the gunmen.
She the abductees were given the sum of amount of #20,000 to transport themselves to Ibadan.
It was gathered that the abductees  were neither beaten nor maltreated before they regained their freedom.