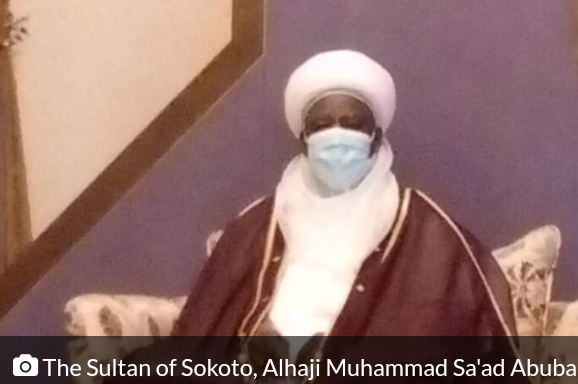 News
Nigerians kick over attempted smear on Sultan, by AIT, Arise TV, PUNCH
SOME well meaning Nigerians especially Muslim individuals have joined in the condemnation of Africa Independent Television (AIT) and others, over their calculated attempt to smear the name of symbol of the Nigeria Muslim Ummah and Sultan of Sokoto, Alhaji Muhammad Sa'ad Abubakar, in a news broadcast tagged, "Did the Sultan of Sokoto snub Lagos State Governor Babajide Sanwo-Olu?"
This followed a press statement published by the media on Sunday, 12 September, 2021 and issued by a media and publicity consultant, Prince Bashir Adefaka, who reacted, on behalf of some concerned Muslims.
A keen observer, pleaded anonymity , further defended the Sultan against the antics of purveyors of the twisted gestures.
He said:
From Sanwo Olu's angle, it's like a conversation pose and gesture. Note that if it's for handshake he wouldn't have faced camera directly.
"Secondly, note that there's no crowd around them unlike the previous two. It is obvious this is a private or personal pose that indicates Sanwo-Olu gesturing the camera man to capture him with the Sultan.
"My speculation is that the Sultan and governor already had a handshake which was not captured in motion. But this third pose or picture looks like one for still camera.
"The third handshake was not offered at chest or face level but at abdomen or navel level," he said.
Corroborating the view, the Publisher of Peace Magazine, Alhaji Abdulfattah Abdulsalam, said:
"Is it the only thing they have to report at that event? It is hatred for Islam and Muslims. The video does not reflect snub, the Governor was talking to him. Or asking a question. Why would the Sultan snub him in the first instance?" He asked.
In the same vein, the National Coordinator, Muslim Media Watch Group, Alhaji Ibrahim Abdullahi, said:
"It is unfortunate that AIT and ARISE TV are getting notorious for anti-Islamic reportage aimed at maligning the integrity of the Muslim Ummah.
"They would continue to fail as they always create unfriendly relationship between Muslims and others.
"They are gradually losing confidence of the people as their negative reports usually turn to be hoax! Eventually, they run several apologies on their stations after wilfully damaging their own image!
"Shame on them and their sponsors. Nigeria shall remain united Insha Allah, irrespective of negative and unprofessional reportage of AIT and its collaborators!"