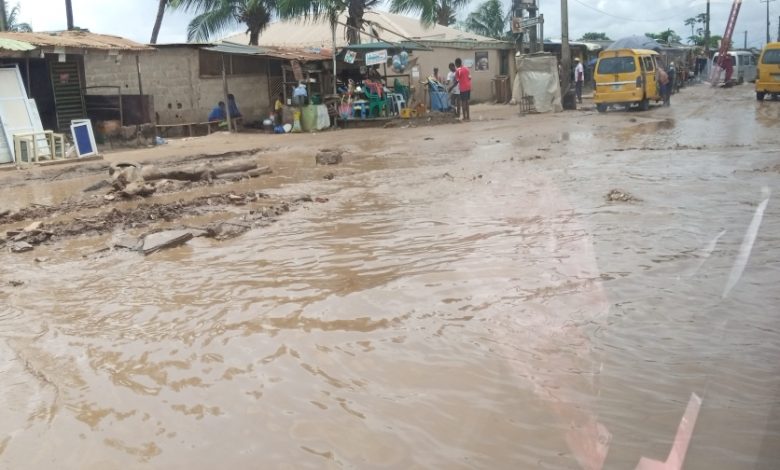 CITIZENS COMPASS- RESIDENTS of Baiyeku, Igbogbo/Baiyeku in Ikorodu Division, Lagos State, have been levying themselves to fix some failed portions of their roads to save themselves from being cut off completely from neighbouring communities.
A cross section of the residents are of the view that they may be cut off except urgent measures are taken.
Citizens Compass had reported that the state government through the Ministry of Public Works Corporation, had embarked on felling of trees and demolition of structures on Igbogbo/Baiyeku Road in readiness for the construction of Phase 1 of the road which starts from Odofin Road and terminates at Prince Ogunleye Estate.
However, some residents said that Phase 2 of the project which will start from Ogunleye Estate and terminates at Baiyeku requires urgent attention as the area has dilapidated.
A walk from Federal bus-stop to Baiyeku revealed failed road from Olawoyin bus-stop down to Emily, Macaulay, Community, Unity, GraceLand, Maternity, LFI, Cele Papa to the last bus-stop in Baiyeku.
Some residents said the dilapidated condition of Igbogbo/Baiyeku Road has forced many motorists to divert to the inner roads which have now collapsed due to pressure, hence, they now levy themselves to fix the inner roads.
It was learnt that the dilapidated condition of Igbogbo/Baiyeku Road has forced some business owners out of business just as many transporters have boycot the area.
A trip from Igbogbo to Baiyeku now attracts N300 on a normal day and N500 and above anytime it rains depending on flood level and time.
A trip from Ikorodu Garage to Baiyeku attracts a normal fee of N500 while between N700 and N1,000 are charged anytime it rains.
One of the transporters, Taofiki Alase complained bitterly that the dilapidating nature of Igbogbo/Baiyeku Road has put two of his vehicles off the road.
Another transporter, Pa Yekeen Abudu said it cost him the sum of N250,000 to fix his mini bus (Korope), yet, to no avail and he is now jobless.
Speaking about the ugly development, a resident, Mrs Rufus Adebimpe said that residents had to levy themselves when they envisaged what is ahead of them. She said, "all the inner roads are in bad shape and we trek long distances because the major road is dilapidated.
Many students get to school late due to the situation on the roads."
Another resident, Ben Adams said many of his friends have relocated from the area to avoid losing their jobs. "My friends have relocated from this area because of this road. Even the money we are contributing to fix our inner failed roads is not enough."
It was lamentation galore among businessmen and women in the axis as many of them told Citizens Compass that the dilapidating nature of the road has denied them acesd to transport their wares to their various shops.
On various occasions, the Council Chairman, Olusesan Daini had promised the citizenry that succour will come.
True to his words, a tipper load of stones was recently dropped on a failed portion of Igbogbo/Baiyeku Roads but this was just like a spoon of water in an ocean.