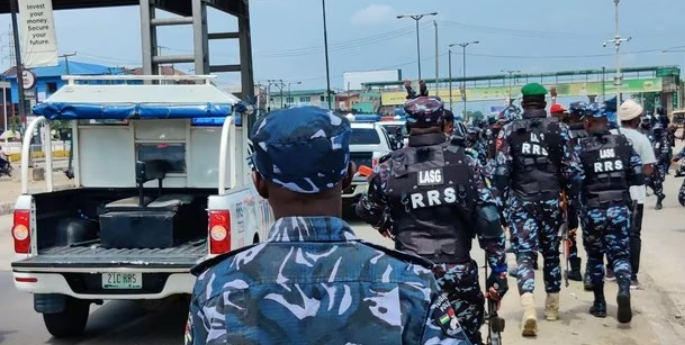 Community
Pandemonium as Police, tricyclist clash over N100 in Lagos 
PANDEMONIUM broke out on Thursday, in Meiran area of Lagos State following a clash between Policemen and a tricycle operator.
According eyewitnesses' account, crises began after the tricycle operator was stabbed for refusing to give "N100 bribe" to an officer.
The incident reportedly occured at Ile-Iwe bus-stop, Meiran at about 9.30am.
Eye witnesses' account said the trycyclist popularlly called 'Eleyele' was riding to Command from Meiran when a Policeman from Meiran Division stopped him and attempted to extort the sum of N100 from him.
However, the rider explained that he was not that bouyant and could not part ways with the said amount and this led to a serious argument between the duo.
An eye witness simply identified as 'Omo-Oba' said the argument snowballed into a fiscuff such that the Policeman allegedly drew a dagger and stabbed the rider. "Like a joke, 'Eleyele' fell on the floor and bled to death."
Following the incident, a mob was said to have descended on the Policeman beating him to stuppor. It did not end there, some people were said to have attempted to raze Meiran Policestation but a combined team of Policemen from Alakuko, Ile-Epo and Abule-Egba rescued their colleague and resisted the mob action on the station.
This was said to have generated tension in the area as the Policemen allegedly shot into the air to disperse the mob.
However, a vulcanizer was reportedly hit by stray bullet and this heightened the tension the more.
He was said to be rushed to the hospital for medical attention but feekers from the area said his condition was critical.
Vehicular and commercial activities were said to be paralysed for hours as business owners hurriedly parked their wares.
Affected areas were Ile-Iwe, Odukale, Iyana-Poultry, Araromi, Oremeji,Oluwo, Baale, Model, Ogabi and few other places.
An unconfirmed report said one other person died during the incident.
As of the time of filing this report, it was unclear if normalcy has been returned to the area but the Spokesperson, Lagos State Police Command did not respond to calls/messages from our Correspondent.