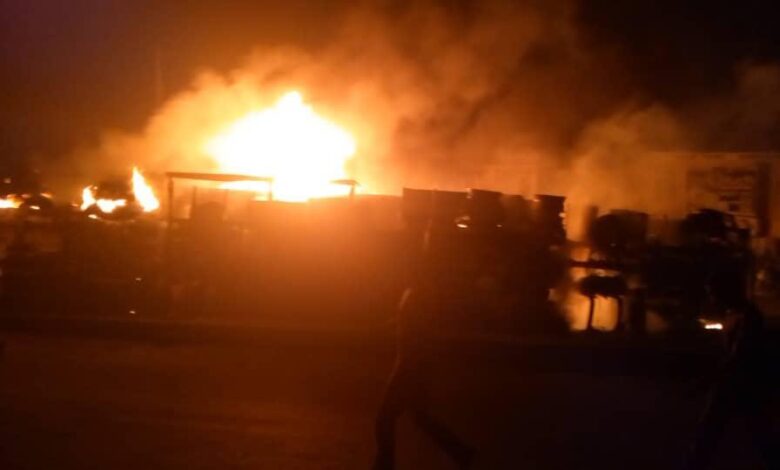 General News
News
Panic as tanker explodes in Lagos
...Driver, motor boy arrested
There was panic at Egbeda in Alimosho area of Lagos State, in the early hours of Tuesday,, after a diesel- laden tanker suddenly exploded having lost control on motion.
The incident reportedly occured along Banire, Ikotun Road at about 1am.
Fortunately, the incident was well managed by emergency responders such that it did not record any fatality or casualty just as no property was destroyed by the inferno.
Scores of residents in the area were said to have scampered for safety.
It was learnt that the driver of the ill fated tanker was on high speed when the accident happened.
A bus driver Sulaiman Afeez said, "I was to pick a customer in the area when I heard the sound of a horn from a fast moving vehicle, I saw a tanker struggling to mantain a balance and all of a sudden after losing control bursted into flames and residents started running in different directions for dear lives."
The incident was confirmed by the
Acting Coordinator, Lagos State Emergency Management Agency (NEMA), Lagos State, Ibrahim Farinloye and Director General of Lagos State Emergency Management Agency, LASEMA, Dr. Olufemi Oke-Osanyintolu.
At press time, both said the situation has been brought under control at press time.
According to Osanyintolu, "On arrival at the above incident by first responders , it was observed that a fully loaded tanker with diesel had a brake failure and subsequently lost control, falling off the road which caused an explosion and fire outbreak.
"The fire has been successfully subdued by men of the LASEMA Fire service unit ,Lagos state fire service, Nigeria Police, and other first responders while damping down is ongoing.
"There are no casualties and no property damaged by the blaze.
"Additional post incident assessment will be carried out and the wreckage will be removed from the thoroughfare. "
Farinloye said the content was Premium Motor Spirit but the emergency responders have diverted vehicular traffic in the axis.
"Please, people must use alternate routes from the Banire roundabout to Egbeda roundabout,"
Also, he said both the driver and motor boy of the ill fated truck have been arrested.