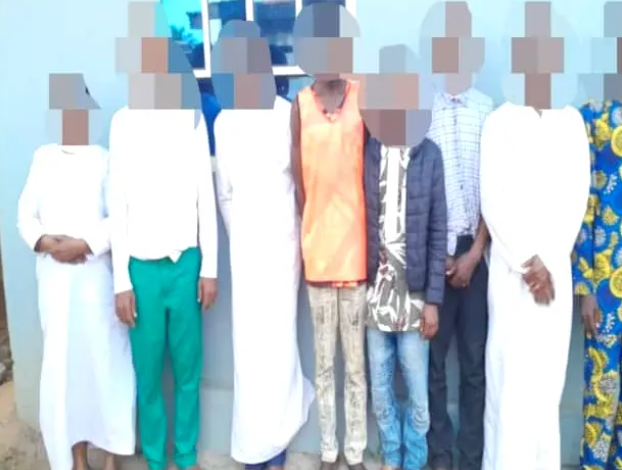 CITIZENS COMPASS– THE Police in Lagos State, have arrested the leader of Truth and the Spirit Prophetic Church, located on, Number 2, Sanni Taiwo Lawal Street, New Oko-Oba, Lagos State, and some church members over a clash with some 'Oro' traditionalists in the area.
The incident reportedly occurred on Tuesday, August 23, 2022,
The incident resulted in the death of 25-year-old Agboola Akeem who was reportedly stoned to death.
As gathered, problems started when the church worshippers were observing a vigil when some 'Oro' traditionalists were having a procession in the area.
There were different accounts of what transpired at the scene as one of the accounts said the traditionalists allegedly invaded the church premises thereby disrupting the church programme.
Another account said the traditionalists on noticing that females were among the church worshippers approached them and requested that they switch off the electricity and the females to lie down but this was rebuffed as the church allegedly claimed that all religions are equal.
An altercation later ensued which degenerated and one traditionalist 25-year-old Agboola Akeem was reportedly stoned to death.
In retaliation, supporters of both parties trooped to the scene and the church was about to be set ablaze when the Oko Oba Police Division was alerted and their timely intervention prevented a mob action.
It was learnt that the church leader, Mercy Okocha, and some members were arrested while the body was evacuated to the morgue. 
Oro Festival is a tradition being celebrated by the male folk especially in the South-West part of Nigeria. 
SP Benjamin Hundeyin, Spokesperson, Lagos State Police Command, who confirmed the incident in his tweets said, "Oro worshippers clashed with church members holding a vigil. It sadly resulted in the death of one person. It's clearly a murder case. Suspects have been arrested. But henceforth, how do we ensure religious tolerance in similar cases?"
He confirmed the pastor's arrest and that of church members. 
The incident has generated mixed reactions on social media. 
A Twitter user, @olaleyeaustine said, "Oro worshippers were doing their procession at night which they had earlier announced, a church was having it's vigil same night, Oro worshippers approached the church to put out their lights and everyone should face down while the procession passes, church refused and fought.
"There is a reason why it is always announced within the community before hand bcos of the peculiarity of their mode of worship for all to be aware to avoid such confrontation."
Another Twitter user, @Ife_Unique said, "The Oro worshippers were clearly wrong.  Live and let's live.Must you pass my area? If u must,why come to my own place of worship to tell me what to do?? If the church had blocked them not to pass their area,it is an entirely different story. Plz let's be just in our judgement."