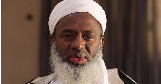 CITIZENS COMPASS– Sheikh Abubakar Gumi, the controversial Kaduna based Islamic cleric, has lost his mother to the cold arms of death.
Gumi announced that his mother died at about 5.30pm on Sunday, March 5, 2023 and preparations were in top gear to bury her today at Unguwar Sarki Muslim cemetery.
In a statement on his verified Facebook handle, he said ,
Inna lillahi WA inna ilaihi rajiun.Today at 5.30pm, with a sad heart, I announce the death of my dear mother.
" Please seek for Her Allah's forgiveness and mercy.
"Her last words were two weeks ago: lnsha Allah, Allah will put her and her children and grandchildren together in Jannah.
These words were very comforting to me.Rahmatul lahi alaiha. Ami