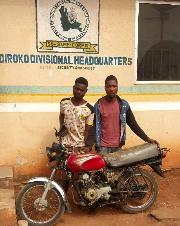 CITIZENS COMPASS: OGUN State Community, Social Orientation and Safety Corps (So-Safe Corps) has arrested two suspects just as it recovered a stolen Bajaj motorcycle at Ita-Egbe in Ipokia Local Government Area.
This was disclosed in a statement by its State Commander, Soji Ganzallo thtough the Diretor of information and Public Relation, Moruf Yusuf.
It reads, "on 4th January, 2023 at about 06:45hrs while the Idiroko Divisional Officers were on routine patrol led by the Divisional Officer CSC Abdulkareem Abdulrazaq apprehended one, Mr Adeyanju Daniel, 32 years old and a resident of Baba Uwuku House, Oko Cashew, Ihunbo in Ipokia Local Government and Mr Emmadu Mathew 26years old who resides at Izini, Iponle, Isakete, Republic of Benin, while they were battling with a motorbike, suspected to have been stolen.
"Two suspects were questioned and asked to provide particulars of the motorbike, but instead they resulted to trying to escape and that was a sign that the motorbike didn't belong to them.
"At the spot, they were cross examined and the team got to know that the motorbike was stolen at Ita-Egbe.
"The Red Bajaj motorbike marked TRE 742 UX with engine number DUZWKB32152 and CHASIS number MD2A18AY4KWB59568 was later discovered to belong to Mr Wasiu AKANNI who came for New Year Festival in his home, Ita-Egbe on 31st. December, 2022, parked the motorbike beside the family house but got missing where it was parked.
The two suspects having confessed to committing the crime together with the exhibit had been transfered to the Nigeria Police, Idiroko Divisional Headquarters for further investigation and likely prosecution."