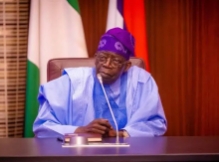 CITIZENS COMPASS – President of the Federal Republic of Nigeria, Bola Ahmed Tinubu says that the federal government could no longer foot bills for universities in the country.
He said this on Wednesday, June 14, 2023 at a media briefing in Abuja. 
Represented by Permanent Secretary, Federal Ministry of Education, Andrew David Adejo, he said though universities in the country already have autonomy, they are yet to have financial autonomy.
"Whether we like it or not, the government can no longer foot the bill for universities. That is why we are doing a private-public partnership. The universities already have autonomy; the autonomy they are yet to have is financial autonomy; it is when they get get it that they can answer that question, and the government is working towards that," Adejo said.
While noting that the government is working to achieve that and more, Adejo said President Tinubu has instructed concerned stakeholders that he wants to see recipients of students loan by the end of the September/October 2023/2024 Academic Session.
Recall that Tinubu signed the student loan bill into law last Monday in fulfilment of one of his presidential campaign promises.
However, while giving clarification to some speculations making the rounds, Adejo explained during the press briefing in Abuja today that an inter-ministerial committee will be inaugurated next Tuesday to fine-tune the process for students to get the loan within six weeks.
Without meaning to say what the committee set up would do, we don't want to make something that only public school students would benefit from, for now, private schools are paying tuition, so you have to give somebody who is going to private school an opportunity for get and pay tuition," the government official explained.
He added: "What you have been seeing is the bill that was presented and went through the final reading at the House of Representatives, and before President signs a bill, he looks at it and sends it to relevant ministries and then decides if it is okay and if there are necessary modifications. Let us wait to see the Act, and you will get the Act when it is transmitted to the Ministry of Justice to produce into a gazette."
He further explained that apart from tuition, there are other fees, and somebody looking for a loan because he or she is indigent also needs money to feed.
"You can't give someone a loan and say, pay tuition without sustaining his school. No, you have to get accommodation; even if tuition fees in public universities are free, you still pay for your accommodation and the federal government would not give you loan that will not make sure you get in school, stay in school and graduate," Adejo added, noting that such scheme has failed in the past, he said they want to learn from the past, saying, "We want the current act to learn from the mistake of the past where there are more defaulters than people that paid the bill, the past is like it is a government money come and take and go, free money but that is not going to be the case with this."
He assured that the process would be depoliticized and that jobs would be created even though it cannot be created 100 per cent, adding that universities and polytechnics were being trained to focus on innovation and producing job creators.