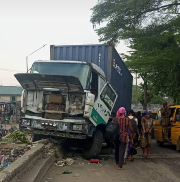 Transportation
SUV driver escapes death in truck accident
...LASTMA to the rescue
CITIZENS COMPASS– THE driver of a Sports Utility Vehicle (SUV) escaped been crushed to death on Friday, when a 40ft containerised truck fell on his car in Lagos.
This incident, the fifth of its kind on Friday, March 10, 2023, occurred at Ago Palace Road, inward Ago Palace from Apple Junction inward Mile 2.
Men of Lagos State Traffic Management Authority (LASTMA) rose to the occasion to prevent loss of life.
The truck was said to have suffered brake failure and landed on the car from the rear.
LASTMA Spokesperson, Adebayo Taofik who confirmed the incident to journalists said, "Another fully loaded 40ft containerised truck today fell on an SUV car with registration no EKY 723 OS at Ago Palace Road inward Ago Palace from Apple Junction inward Mile 2.
"Investigation revealed that the 40ft containerised truck had a break failure and crushed the SUV car from the rear.
"LASTMA officials led by Zone 5 'Bravo' Ige Omolaja confirmed that no any casualty was recorded during the accident.
"He confirmed further that Lasema Response Unit (LRU) has been contacted for immediate evacuation.
"The LASTMA General Manager Mr Bolaji Oreagba appealed to motorists particularly truck owners and drivers to always ensure that their vehicles are in good condition before embarking on any journey across the State.
"Mr. Oreagba however confirmed that the Agency today alone recorded 5 different container truck accidents at different locations across the State.
"Today alone the Agency recorded five different container truck accidents at Ketu inward Mile 12, Ojuelegba bridge inward stadium, under the bridge by Lasuth, Ago Palace Road and Oke-Alfa bridge inward Jakande Estate."