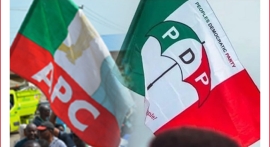 CITIZENS COMPASS – The Governorship Election Petition Tribunal sitting in Nasarawa State has sacked Governor Abdullahi Sule from the platform of All Progressives Congress (APC) as the lawful 1governor of the State. 
The tribunal also declared the candidate of the People's Democratic Party (PDP), David Ombugadu as the winner of the March 18, 2023 governorship election in the state.
Delivering the judgment, Chairman of the tribunal, Justice Ezekiel Ajayi, declared Ombugadu of the PDP as the lawfully elected governor of Nasarawa State.
Ombugadu had dragged Sule to court challenging his declaration as winner of the poll by the Independent National Electoral Commission.
He complained to the tribunal that his actual votes were unjustifiably reduced while that of Abdullahi Sule of the APC was increased to aid Sule to victory, particularly in the forms EC8Bs of Gayam and Chiroma Wards of Lafia Local Government Area.
The tribunal held that the petitioners duly proved their petition.
The tribunal in its decision deducted the incorrect votes added to Sule and accordingly added back the votes which were reduced from the overall votes of David Ombugadu as evident on the certified copies of the polling units results (forms EC8A) tendered by the Petitioners.
The tribunal also explained that the 1st, 2nd and 3rd respondents did not produce any contrary set of forms EC8As throughout the trial.
In the final analysis, the tribunal held that the petition had merit and accordingly granted the reliefs sought by the Petitioners.
The tribunal, therefore, ordered that the certificate of return issued to Alhaji Sule of the APC be withdrawn and issued to Dr. David Emmanuel Ombugadu as the validly elected governor of Nasarawa State.
Reacting, the  Governor Sule said; "It is a temporary setback at this time and I remain the Governor of Nasarawa State till all judicial provisions for appeal are concluded"
The Governor said he would operate his government as if nothing had ever happened, noting that there are programmes scheduled to take place in the week and would go on without recourse to any change.
He called on the youth not to respond to any "propaganda and mischief" as his legal team will push on the case until it reaches the Supreme Court. 
He tasked all on being calm and law-abiding, urging them not to riot as that would only succeed in stunting the accomplishments being recorded by the present administration in the state.