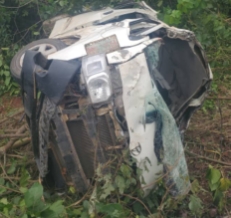 CITIZENS COMPASS – Two passengers of a commercial  bus were confirmed dead while eight others sustained varrying degrees of injuries on Sinday, during a lone accident at 
Olorunpodo axis inbound Ore, along Ondo-Benin Expressway, Ijebu East Local Government. 
The vehicle involved was a Toyota Hiace with number plate, RRU 295 XA at about 2.25p.m.
According to eyewitnesses' accounts, the vehicle suffered tyre bursts while on motion as it was traveling from Lagos to Akure in Ondo State when the incident occurred. 
It was learnt that in the process, the driver lost control and the vehicle veered into the bush at Olorunpodo axis inbound Ore, along the Ijebu-Ibe Benin/Ore Expressway.
15 occupants (10 male adults and five female adults) were in the vehicle but two of  them lost their lives in the unfortunate incident while eight others (three females and five males) were injured.
Confirming the incident, spokesperson, Ogun State Traffic Compliance and Enforcement Agency (TRACE), Babatunde Akinbiyi said, "While the rescue team of TRACE, FRSC and the police commiserate with the family of the deceased, drivers are again warned to desist from excessive speed, avoid fairly used tyres and ensure that all vehicle components are in good shae."